How to shoot amazing video from drones
STORY HIGHLIGHTS
Hobbyists are using small drones to shoot aerial photography
With a few hundred dollars and practice, you can make breathtaking aerial videos
Keep drones and other model aircraft less than 400 feet above the ground
Learn to fly a cheap, toy drone, before adding a camera
(CNN) — A bird's eye camera sweeps over the green fields of Ireland, flies over the towering Cliffs of Moher and pans the ocean hundreds of feet below.
It's just like a scene in a movie. But this is not Hollywood magic. The spectacular footage was shot, not by a film crew in a helicopter, but with an inexpensive toy drone — an unmanned aerial vehicle, or UAV, as hobbyists call them — operated by Andreas Ostermann.
And with a few hundred dollars and some practice, you can make breathtaking aerial videos, too.
"It is the closest thing to flying like a bird," said Ostermann, an aerial-photography hobbyist who lives in Germany. "My inspiration is to show how beautiful these shots can be and that this hobby is not at all dangerous if you know what you do."
The world of remote-control aircraft has been around for decades, but the growth and technological wizardry of UAVs have created a new wave of hobbyists trying their hand at aerial photography.
From views of stunning vistas, waterfronts and landmarks to overhead shots of a house about to fall off an eroding cliff or a cheery scene of a fox trotting on ice, there are a lot of creative, fun ways people are using recreational drones for aerial videos.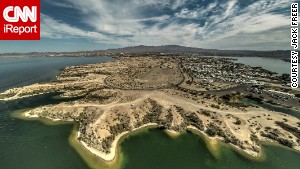 A drone-eye view of Lake Havasu City, Arizona.
"Originally it was just a bunch of guys tinkering and building things. Now people want to focus on the applications rather than the technology," said Timothy Reuter, founder of the Washington, D.C. Area Drone User Group, the largest UAV club in the country.
Instead of building drones from kits, Reuter and others like him are turning to off-the-shelf models that are ready to fly.
"Recently some of the sophisticated capabilities have gotten cheap and easy to use," he said. "The difference between the professional and hobbyist tools isn't that big anymore — that's part of the revolution."
Since the FAA's 2007 warning not to use drones for commercial purposes, there's been some debate and confusion in the hobbyist community about what you can and can't do with aerial photography. So before you go out and strap a GoPro to a ready-made drone, here's what you need to know:
Learn the rules
Keep drones and other model aircraft less than 400 feet above the ground and make sure you're not within 3 miles of an airport or air traffic, per FAA guidelines. Also check your state law, as some states are more strict with trespassing laws. Flying over someone's land could be considered trespassing.
While it's tempting to turn aerial drone photography into a business, beware that the FAA regulates commercial flights on a case-by-case basis. Only two commercial operations have been approved, and those are for exploratory flights in the Arctic.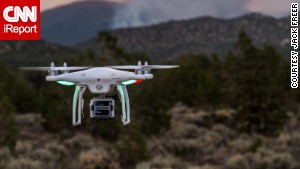 A DJI Phantom drone captured in action.
P.S. Before you take your drone to shoot footage on vacation, do your research first. UAV laws vary in each country.
Join a club or find an instructor
It's better to work with experienced flyers than to test the skies alone.
"Find a community to learn with if you're going to be serious, like a drone group or through the Academy of Model Aeronautics," said Reuter. "They'll teach you how to be safe and prevent any accidents."
Study different models and what they can do
Toy drones, like the Blade Nano QX, are great introductory models for people learning how to fly, said Reuter. This model runs about $80 online.
Moving up to mid-range models, consider UAVs that come fully assembled, such as 3D Robotics' Iris model, which runs $750. The company's CEO, Chris Anderson, pioneered one of the first online drone forums, DIY Drones.
One of the more popular mid-range UAVs is DJI's Phantom series. This quadcopter, priced from $500 without a camera and $1,000 and up for a model with an attached GoPro, is geared toward folks interested in aerial photography.
If you're looking for something smaller than the Phantom, check out Reuter's recent creation, the Pocket Drone. The multi-copter is lightweight and portable enough to fit in a backpack, he said.
Start small
Learn to fly a cheap toy drone before adding a camera. Once you know how to operate that, you can fly a larger model, advises Patrick McKay, a Colorado hobbyist who's been flying UAVs since 2011.
"Don't invest too much initially, since you will inevitably crash a lot while learning."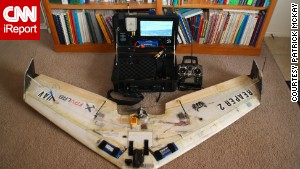 A video-piloted remote control flying wing made from a kit.
Keep practicing until you're comfortable
Canadian photographer Brent Foster encourages newcomers to learn how to fly in manual mode first. That way if your GPS goes out, "it'll save you from a crash," said the former LA Times photojournalist who got hooked on flying UAVs two years ago.
Knowing your gear and its limitations will be valuable for when you fly in new, sometimes unpredictable situations, several UAV hobbyists said.
Video: How to get started flying UAVs
Put safety first
"Always think about what you might hit if your craft crashed on a given flight," said McKay, a Colorado hobbyist.
"Don't fly over large crowds of people doing event photography unless you have a lot of experience and confidence in your equipment, and stay away from areas/altitudes where you could pose a collision risk to manned aircraft."
Use online resources
Online forums and Facebook groups are great place to learn more about the hobby. DIY Drones is a pioneer forum that continues to be active. Other online resources include Multi-Rotor Forums, the DJI Phantom Users Group on Facebook and tons of local radio-controlled flyer group sites.
Have fun
Once you have the rules, safety precautions and practice time under your belt, it's time to have fun.
"I love flying in the mountains and zooming down mountainsides," said McKay. "It allows me to experience all the thrills of flight in spectacular locations with my body never leaving the ground."
Madison's Home Theater and Security Experts – JK Security