JK Security provides swing, slide, and folding door systems that incorporate the latest in automation technology. record-usa products are aesthetically compatible with all types of store front applications while providing for ease of installation and dependable operation.
The persistent effort to incorporate quality materials and craftsmanship has earned the confidence of architects, general contractors, and end users throughout the world.
Whether the project is renovation upgrade, new construction, national account or one of a kind, the automatic door systems engineered by record-usa will provide years of dependable service.
Our Products:
6100 Series Swinging Doors –
6100 Series Low Energy Swing Door Operator:
FULLY COMPLIES WITH ANSI 156.19 FOR POWER ASSIST AND LOW-ENERGY POWER-OPERATED DOORS
MEETS ALL AMERICANS WITH DISABILITIES ACT OF 1990 REQUIREMENTS é
Automatic door technology as you've never seen it before!
When building design requires a surface applied low energy
door operator suitable for medium to high volume traffic, the
record-USA 6100 Series is your solution. record-USA's 6100
series low energy swing door operator eases your selection
process by offering all of the features normally found as options,
and incorporating them into one self contained unit.
In order for a swing door operator to be considered as "low
energy" as defined in ANSI 156.19, a "knowing act" activation
must be performed. This "knowing act" can be in the form
of pushing an activation plate or button, swiping your hand in
front of a "touch less push plate" or swiping a card for access
control. Due to the opening speed requirements defined within
the ANSI standards, the swing door operator is classed as intrinsically
safe. Adjustable parameters within the control can
determine what to do if an obstruction is sensed and may be
independently selectable for the opening and closing cycles.
Adjustable parameters within the control also allow adjustment
of opening speeds, time open delays, and locking time
delays. Even parameters allowing the operator to overcome
stack pressure issues are available as standard features.
Additional safety sensors are not required on low energy
swing door operators under the standard, however, the
record-USA's 6100 swing door control has the ability to
incorporate additional safety sensors into your door system
should you so desire.
In today's competitive marketplace, many manufacturers have
reduced the cost of their products by outsourcing components,
extrusions and even complete units to Asia and other low cost
regions of the world. In many cases, this "cheapening" of the
product has led to excessive noise and early component failure.
record-usa's Swiss engineered products give you the lowest
power consumption of any swing door operator in its
class. This combined with its stylish looks and almost silent
operation combine to give you the best value for money low
energy swing operator available today.
The record-USA 6100 low energy swing door operator is
being used successfully in many diverse applications such as
hospital corridors, banks, care facilities, patient rooms, doctors'
offices, restrooms, colleges, schools and libraries to name
but a few. record-usa's 6100 low energy swing door operator
allows specifiers, design professionals, owners or maintenance
engineers to choose one operator which will cover any
eventuality you may have. Please feel free to contact recordusa
today for all of your design and entrance needs.
Features/Benefits
In-swinging or out-swinging doors
Single, pairs or double egress doors
Comes with standard push arms- Three different styles of arms available to suit every application
on/off/hold open switch with error indication is standard
Microprocessor control for accurate repeatability of parameters
Suitable for Center hung or Butt hung doors
Capable of moving up to 175 pound door leafs
Available in up to 48" single and 96" paired openings
Meets ANSI 156.19 requirements when adjusted correctly.
Unit is fire rated per UL 228
Available clear or dark bronze anodized as standard, custom colors are available (please contact record-USA).
Stylish black plastic molded end caps, incorporating switches and error indicators.
Uses same hand held programmer as the 8100 Series
Electro-mechanical operation
Sequences electric strikes and electrified panic devices, with-out the need for extra interfaces.
Push to start application, eliminates the need for additional activation accessories and complex field wiring
Latch assist function assures doors closing and locking in areas with heavy stack pressure conditions
Quick and simplified installation
Door open time delay of 2-60 seconds (check minimum hold open requirements in meeting ANSI 156.19)
Rounded 4 1/2" x 5" or squared 4 1/2" x 5 1/8" covers available
Easily interfaces with all types of access control
Lowest Power Consumption in its class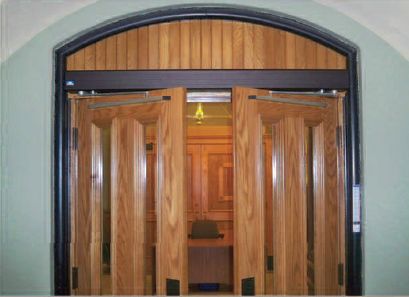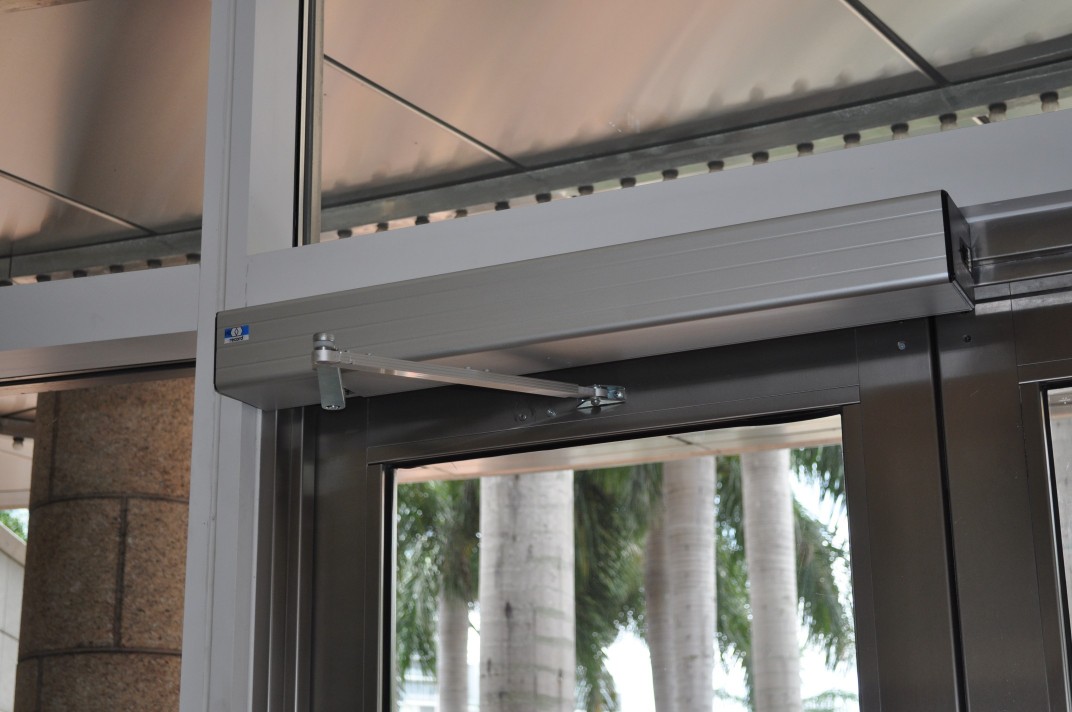 8100 Series –
Heavy Duty Operator
Automatic door technology as you've never seen it before!
A proven planetary gear system in tandem with a perfected
lever- system arm assures the smoothest, most quiet operation
available without exception. Libraries, doctor offices, and
healthcare facilities demand that their daily routines proceed
without the common noisy distractions associated with many
competitive products. Eliminate your worry of post install
performance by specifying record-usa's 8100 series without
hesitation.
Combined with World famed Swiss precision technology and
a patented control system with 32 bit processor technology,
the 8100 series is powerful and intelligent. The 8100
guarantees rapid and reliable door control performance, even
when complex functions are desired.
When programming the 8100 series with record-usa's available
hand held remote you will be greatly impressed with the quick and
easy diagnostics and software updates that make field adjustment
easy to configure and program. Using state of the art computer
chip technology incorporating flash memory, the installing
contractor can program multiple entranceways to open and close
at the exact same speed with each and every opening.
Record-usa's 8100 series swinging door operator makes everyone's decision making process simpler in that it truly can be selected for most any application. An ingenious design platform allows each unit to be used on virtually any door configuration including:
Features/Benefits
Right hand or left hand doors
Inswinging or outswinging doors
Libraries, elderly care facilities, universities, hospitality, storefronts
Front entrances in retail
Meets ANSI A 156.19 requirements when adjusted properly
Meets ANSI A 156.10 requirements when adjusted properly
Available clear or dark bronze anodized, custom painted, and clad
Electric strikes without additional relays or delays
Up to 350 pounds per door leaf
30" doors through 96" door openings
Push to start applications eliminate the need for additional activation accessories and complex field wiring
Latch assist function assures closing in areas with heavy stack conditions commonly associated with doors in air conditioned and heated environments
Specify 8200 Series when a squared header is desired.
An optional feature for the 8000 series Swing Door Operator
systems is an internal clutch/ brake to maintain door position at the
full-open and/ or full closed position(s). This electro-mechanical unit is
integrated within the encoder assembly and will hold door position
with 90 ft -lbs. torque. If forces are applied to the door which
exceeds this force, the clutch feature of the unit will allow rotation
without physical damage to the operator.
Arm Options
The Standard Arm Assembly, 9-80-0010-CL, will work in out
swing (push) applications up to a 12" reveal, and in swing (pull)
applications Up to a 6" reveal.
The Slide Track Arm Assembly, 9-80-0012-CL, will work in out
swing (push) applications up to a 3" reveal, and in swing (pull)
applications up to a 6" reveal.
The Offset Arm Adapter, 9-80-0011-CL, can be used with
the above Slide Track Arm Assembly to provide a solution for
special applications, such as center-pivoted doors with breakout
capability, or double-egress installations using a continuous header.
Extended Reveal Applications will require an extension of the
secondary (adjustable) arm portion of the Standard Arm Assembly.
This is accomplished by combining two secondary arm assemblies.
Reveals of up to 24"are possible.
 Handicapped Power Door Operators from Record & JK Security of Madison, WI