We are excited to announce all-new 4K Ultra HD multi-room video solutions with new audio and video matrix switches. With the recent acquisition of Leaf, a leader in video and audio distribution, we built these switches to make it possible for you to distribute copy-protected 4K Ultra HD, and all of your favorite video content, to every room in your home with a clean and simple install.
We know you want the very best picture and sound from your entertainment, and 4K is the new standard for high-definition video. Delivering four-times the picture resolution of 1080p displays, it is redefining home entertainment. Movie studios, and other companies producing video content, have come together with manufacturers to define standards that result in both stunning video and audio.
We have four new models of 4K Ultra HD audio and video matrix switches, perfect for any Control4 Smart Home. We packed these new switches with lots of features that will ensure you have the best 4K multi-room video experience and clean and simple installations in each room. And we're making it easier for your Control4 Dealer to configure and deliver this experience.
Enjoy multiple video sources throughout your home
These new audio and video matrix switches take the video content from up to 10 HDMI sources and distribute it to up to 10 rooms throughout your home. In a single interface you can watch video from a Blu-ray disc, satellite, Apple TV, Roku, streaming media service, or your stored movie library. You can make all of this content available throughout your home without requiring all that equipment to be installed in each room—you can keep it clean and simple with only the TV and a remote.



Four new model include: 10×10, 8×8 and two 6×6 models.
4K copy-protected content requires HDCP 2.2 compliance, we've got you covered
As you would guess, enjoying 4K video requires both the hardware that supports 4K and the 4K Ultra HD video content. There have been 4K TVs on the market for a while, but the content has lagged while movie studios have been developing a copy-protection standard that would ensure their content isn't easily pirated. HDCP 2.2 is the standard adopted by the movie industry and it requires every device in the link between the video source and your display to be compliant in order for you to enjoy this content in your home.
Per the specification, you will get a black screen on your TV if you try to watch 4K content without HDCP 2.2 compliance in each device. It won't just downgrade the picture to 1080p or even standard definition—you simply get no picture. HDCP 2.2 requires hardware manufacturers, like Control4, to build support for this standard into the hardware to manage this encryption. This means that you can't simply download a software or firmware update for non-compliant systems. You can learn more about HDCP 2.2 in this post.
While the threat of a black screen is a bummer for those that don't have compliant systems, all of our new 4K Ultra switches are compliant with HDCP 2.2. In fact, we believe these switches are the first video switches available for Smart Homes with HDCP 2.2 compliance. As more and more 4K content becomes available, you can feel confident that your Control4 switch will distribute it throughout the house.
Clean, simple install throughout your home
While these new switches give you the peace of mind knowing you'll be able to enjoy stunning 4K video for years to come, they also provide you with the benefit of clean, simple installations throughout your home. We packed a lot of features into these switches that make it easier for your dealer to install, give you a fast video switching experience, and provide a clean look in every room.
Ultra-compact receivers deliver stunning picture and sound, and also deliver incredible performance
Video matrix switches distribute audio and video throughout the home over a network cable between the switch and a receiver, which connects to your TV or projector via HDMI. The new Control4 receivers are ultra-compact, about the size of a standard deck of playing cards, and easily conceal behind your TV or projector.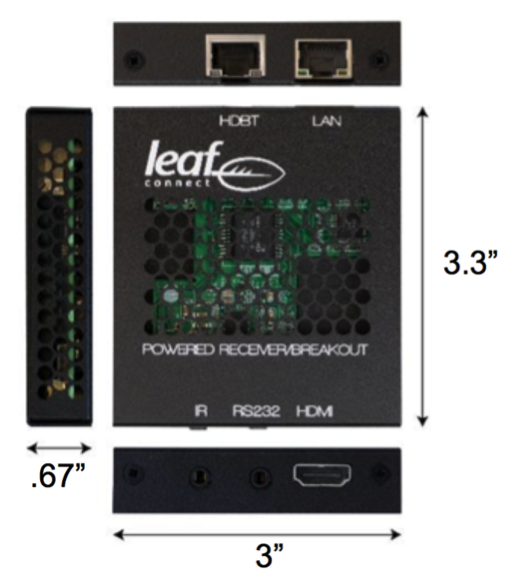 Don't let the size fool you, these compact receivers help ensure a clean install at every TV and make installation a breeze by delivering more connectivity, and even power, over a single cable. These receivers can distribute 4K video content throughout the home, up to 100m (330 ft) away from the switch.
Powered over the cable connected to the switch, these receivers don't require a separate power supply, which helps minimize the clutter in each room. The same cable can also distribute Ethernet connectivity, so you can connect your TV or other devices without running additional cables.
More Geeky Features
There are loads of features that make these switches really stand out and here are more of the geeky details:
Integrated Audio Switch
An integrated audio switch distributes audio to 8 zones throughout the house. These switches will take the audio from your HDMI sources, or other digital audio sources, and distribute it throughout the house without the need for a separate audio switch. There are also advanced features like zone-locking, so you can make sure you get the very best surround sound experience in rooms with 5.1 or 7.1 surround sound.
Integrated Ethernet Switch
To keep the install simple, and your equipment rack a lot less messy, there is an integrated Ethernet switch that distributes Ethernet connectivity to each room. This feature reduces the amount of equipment and cables your dealer will need.
Advanced device management, for super fast switching between video sources
Part of the HDCP 2.2 specification is the identification between devices, like a handshake, before a video source can play 4K content. This identification step can introduce delays for the viewer while you wait for devices to negotiate. These switches have advanced device management built in, to speed up the identification and switching so you can start watching your video faster.
Hands-down, these switches provide the best multi-room video experience for your Control4 Smart Home. Talk to your Control4 Dealer to get more details about how to get this 4K multi-room video experience in your Smart Home.
Learn more about all the Control4 Smart Home Solutions from: